Welcome to the Richard J. Nelson AdventureZone
In addition to design and formatting changes, recent additions to the website are the Switzerland and Chile Adventures, and the Other Photos page. Click on pages on the left for photos and descriptions of adventures and other information.
Jean Pavillard, Swiss Mountain Guide and owner of Adventures to the Edge, introduced me to mountaineering in 1994, and I've enjoyed many trips and summits with him since that time. My travel and mountaineering accomplishments with Jean have been some of the most personally rewarding experiences of my life. In addition, due to Jean's vast international life experiences, he has enhanced my knowledge and understanding of our planet, and especially its less fortunate inhabitants. Jean has guided us in the Colorado Rockies, Canada, Switzerland, Ecuador, Chile, and Nepal, and each adventure is better than the previous one.

My daughter Jill climbs with us, and Jean continues to take us to the "edge" of our abilities. Our recent mountaineering trips to Switzerland, Chile, Canada and Ecuador were fantastic. Jean not only safely guided us to new mountaineering heights and accomplishments, but his local knowledge of the areas made our tours a complete cultural experience. We look forward to many more mountaineering trips and summits with Jean in the future, and heartily recommend Adventures to the Edge for the mountain experience of a lifetime.
"Only those who risk going too far can possibly find out how far they can go." -T.S. Eliot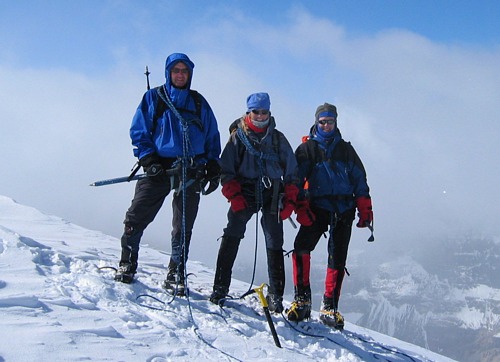 ADVENTURES

Switzerland - Mountaineering
Chile - Mountaineering
Nepal - Trekking
Ecuador - Mountaineering
Canadian Rockies - Mountaineering
Colorado Rockies - Mountaineering
Boulder, Colorado - Rock Climbing
Italy Dolomites - Trekking
Chamonix, France - Glacier Training
Climbing Team: Dan, Jill, and RJN
Please check out these worthwhile websites:
Room to Read - http://www.roomtoread.org/
Adventures to the Edge - http://www.atedge.com/